---
PRODUCT OVERVIEW:
ADORABLE VALENTINE'S DAY GNOMES DECORATIONS
PREMIUM QUALITY & HANDCRAFTED
PERFECT SIZE & BRIGHT COLOR
GOOD CHOICE FOR GIFTS

PRODUCT DETAILS:
Name: WValentine's Day Mr. Gnome with flowers and Ms. Gnome with love letter
Material: Cloth
Style: Valentine's Day Gnome
Specification: Standing Pose Gnome
Color: Red Gnomes and Pink Gnomes
Size: 30cm
Type: Envelope Gnome
Suitable for gift relationships: junior, lovers, husband and wife, colleagues, friends, elders, children, classmates, teachers
Category: Crafts
Craft: semi-manual and semi-mechanical
Gram weight: 100gm

NOTE:
About color difference:
All pictures are taken in kind. Due to the slight deviation of the color of the product during the display, photographing, and drawing process, the actual color shall prevail.
Buyers who have strict requirements for color, please be cautious!

PRODUCT INCLUDED:
Gnome x1
Gnomes are said to guard people's homes and keep them from harm in folklore. It is considered a favorable omen and offers a good fortune to the whole family.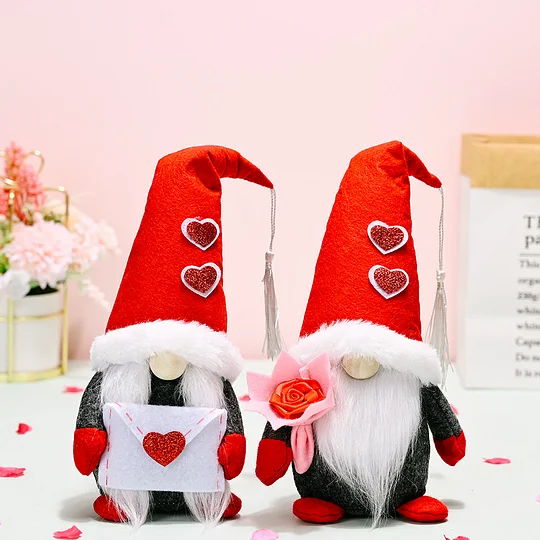 Features:
High material:

 

these Valentines Day gnomes are made of non-woven fabric and fiber fur material, reliable and safe, no bad smell and non-toxicity, wearable and strong

Classic design:

 

these Valentines Day plush gnomes adopt classic elements of Valentines Day, which will be nice festival decorations, 2 styles of faceless plush dolls, one gnome has a rose in his hand, and the other gnome has an envelope in his hand, cute and beautiful

Wide applications:

 

these handmade gnomes are designed for valentines Day, can be extensively applied for daily decoration, like home, hotel, office, restaurant, cafe, bar, shop, grocery or other places, which can warmly welcome the arrival of Valentines Day
Specification:
Material: fibre + acrylic

Size:31*8*7cm


Weight:150g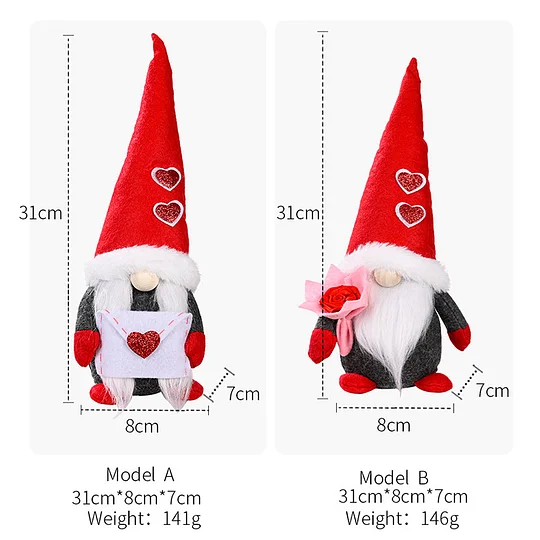 Cute and very well made. Top quality
This section doesn't currently include any content. Add content to this section using the sidebar.